RIMD/IFReC Joint Orientation and Lab tour 2019
May 25, 2019
Events and Seminars
RIMD/IFReC Joint Orientation and Lab tour 2019
The Orientation and Lab tour ended successfully on May 25, 2019. There were 65 participants.
We are planning the next orientation in May 2020 and the registration will be opened in March. We warmly welcome ambitious students and post-doctors' participation.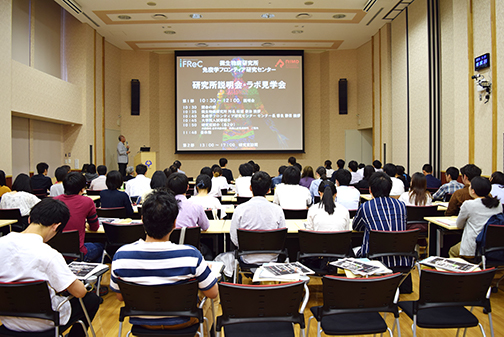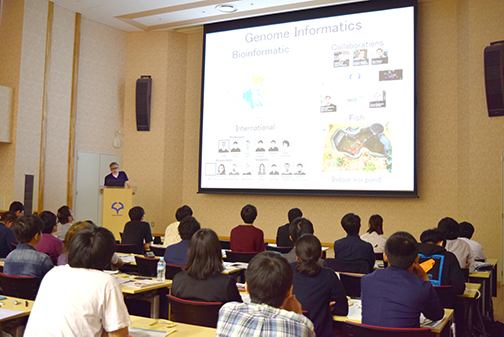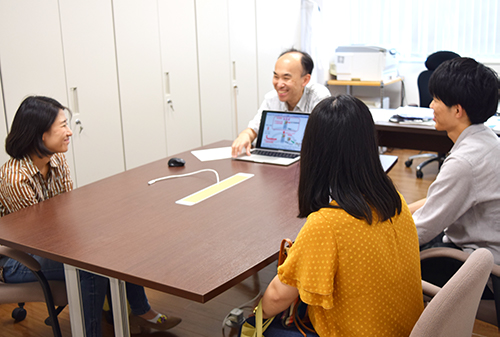 Registration and Details
*Registration has finished.
The Research Institute for Microbial Diseases(RIMD) and Immunology Frontier Research Center (IFReC) will hold Joint Orientation & Lab tour on May 25, 2019 for graduate schools/post-doc candidates. Both institutes are the world's foremost institute for basic biological researches including microbiology, immunology and oncology. The aim of this orientation is to recruit next-generation researchers who can share passions for scientific discovery. Registration is needed. The orientation will be conducted in Japanese.
Date
May 25th ,2019 (Sat) 10:30~、13:00~17:00

Program

※The schedule time may change.

10:00 open

10:30-10:50 introduce facilities

10:50-12:00 Orientation (1~2min per Lab)

Lunch (Restaurants' Map)

13:00-17:00 Lab tour

Place

RIMD Taniguchi Memorial Hall (1F, Integrated Life Science Building)

Registration

Please access to GoogleForm (https://goo.gl/forms/rbgjjmP3Hs5kFj0o1) to answer the questionnaire or send your information below by e-mail.

suishin*biken.osaka-u.ac.jp (Please replace * to @.)

Please re-send e-mail or confirm by phone( +81-6-6879-8320) if there is no response from the office.

Title:Registration for Joint Orientation2019
①Name
②Affiliation (Univ. Faculty, etc)
③Grade (at April 2019)
④Interesting Lab
⑤How did you know this orientation? (Ex. from the Website or Poster)

Orientation Lab list

Lab List in order of the presentation

Please see "How to visit" in the list and access HERE to book your visit on the web by using your Booking No. which was sent from the Office for Research Promotion.

Handouts

Handouts will be here in the early of May.

Please refer to the web page below about laboratories.

Contact

Office for Research Promotion, RIMD
3-1 Yamadaoka, Suita Osaka 565-0871
TEL : +81-6-6879-8320

Mail : suishin*biken.osaka-u.ac.jp (Please replace * to @.)

RIMD : http://www.biken.osaka-u.ac.jp/

Facebook :https://www.facebook.com/OsakaUniv.Biken.RIMD/

Twitter:https://twitter.com/Biken_RIMD_jp

IFReC : http://www.ifrec.osaka-u.ac.jp/
Poster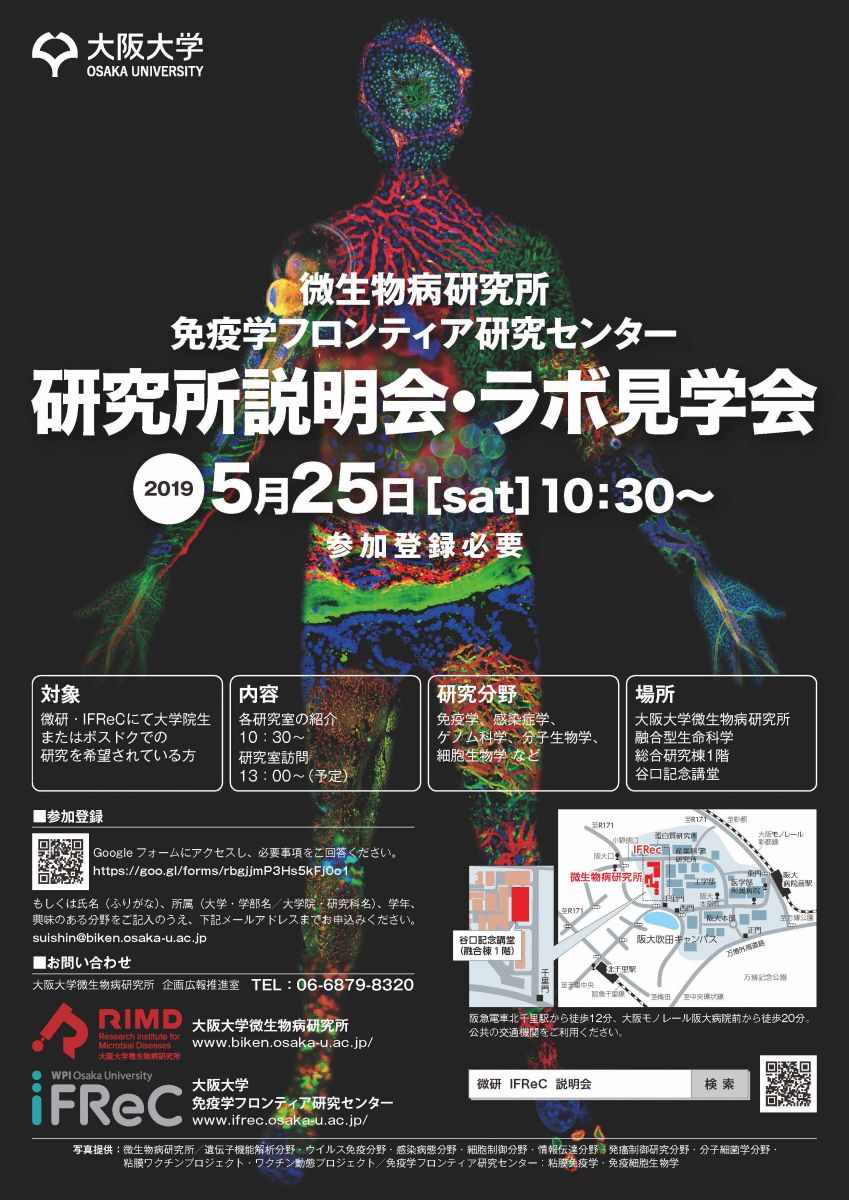 For Students and Researchers who want to study in RIMD
Past RIMD/IFReC Joint Orientation and Lab tour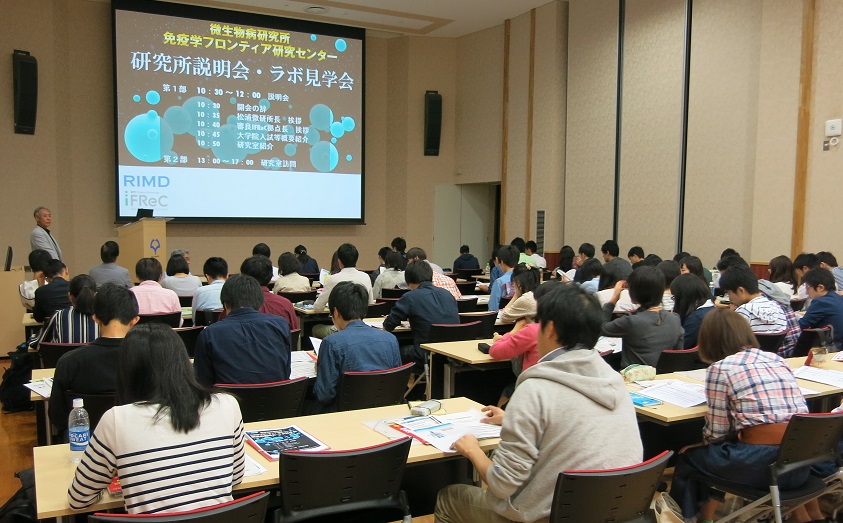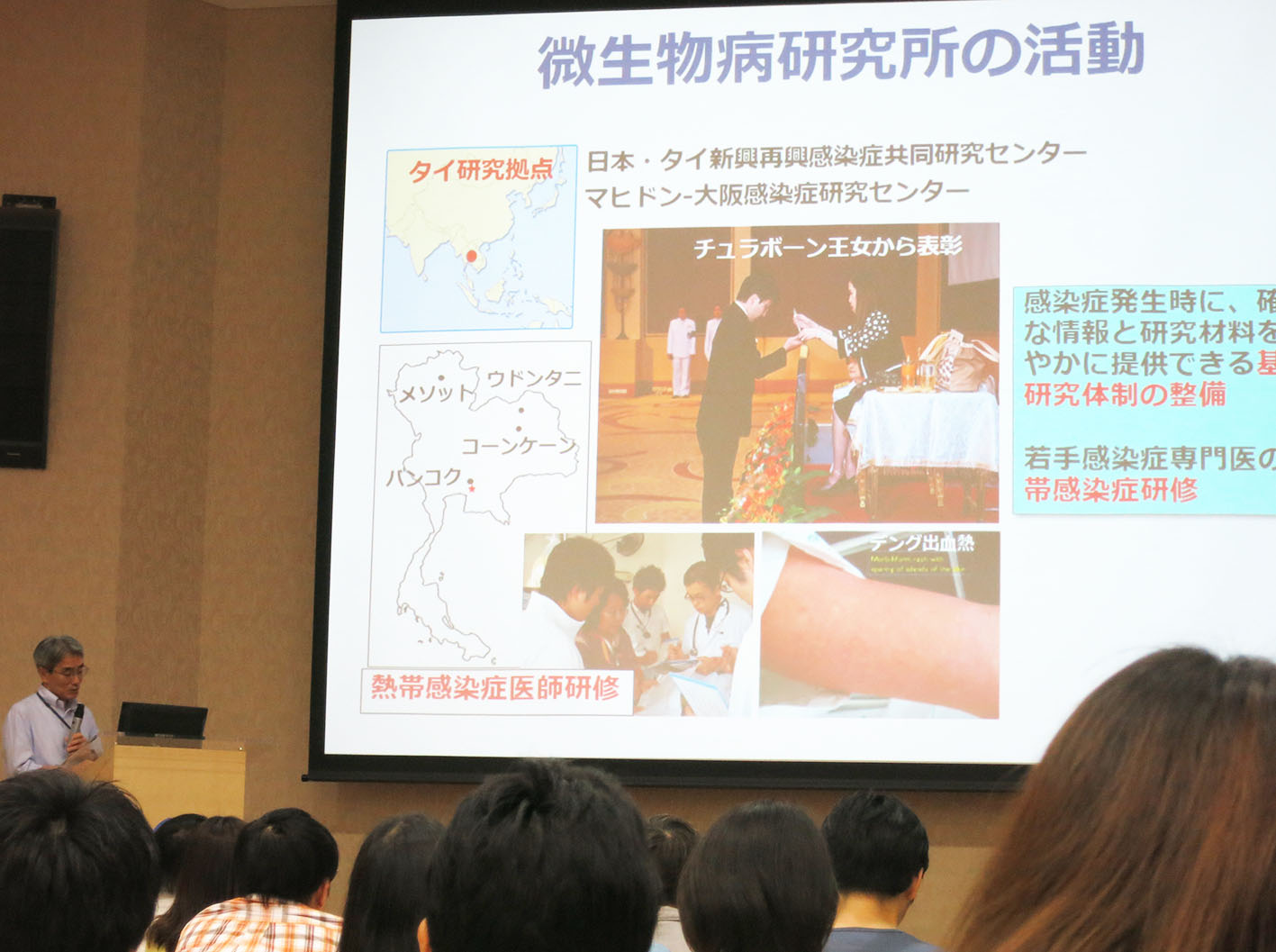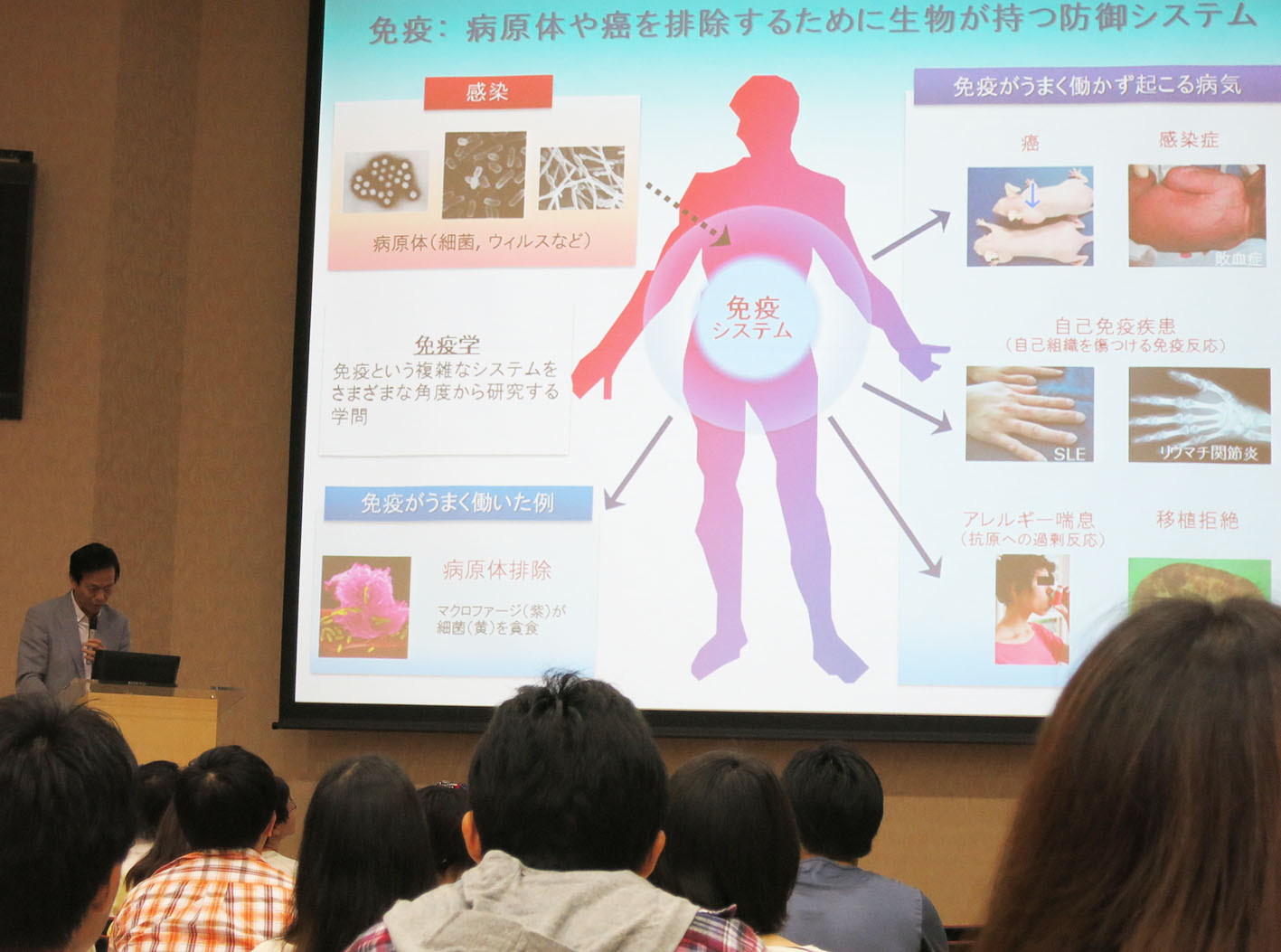 Back