[Internal Event ]The 605th Biken Monthly Seminar on November 30th
November 16, 2021
Events and Seminars
| | Title | Speaker | Affiliation |
| --- | --- | --- | --- |
| Title1 | The tertiary structure of the human Xkr8-Basigin complex that scrambles phospholipids at plasma mambranes | Takaharu Sakuragi | IFReC Biochemistry & Immunology |
| Title2 | The in vivo adaptation mechanisms of Helicobacter pylori by simple sequence repeats | Hitomi Mimuro | Department of Infection Microbiology |
Chair:Masako Kohyama(Department of Immunochemistry)
Venue:Taniguchi Memorial Hall (1F, Integrated Life Science Building)
Date:Tuesday, November 30, 2021, 4-5 pm
*The presentations will be conducted in Japanese.
*This is a credit recognition seminar for the Master and Doctoral Degree Programs of the Graduate School of Medicine.
*The seminar is certified as a newly appointed researchers training program as part of the Osaka University Faculty Development.
*The seminar will be also available online via Zoom. Zoom URL, ID, and Passcode will be provided via email to all lab. by a day before the seminar.
---------------------------------------
Contact: Ryo Iwamoto
Office for Research Promotion, RIMD
TEL: 8320
E-mail: suishin*biken.osaka-u.ac.jp (Please replace * with @)
Seminar Poster (PDF)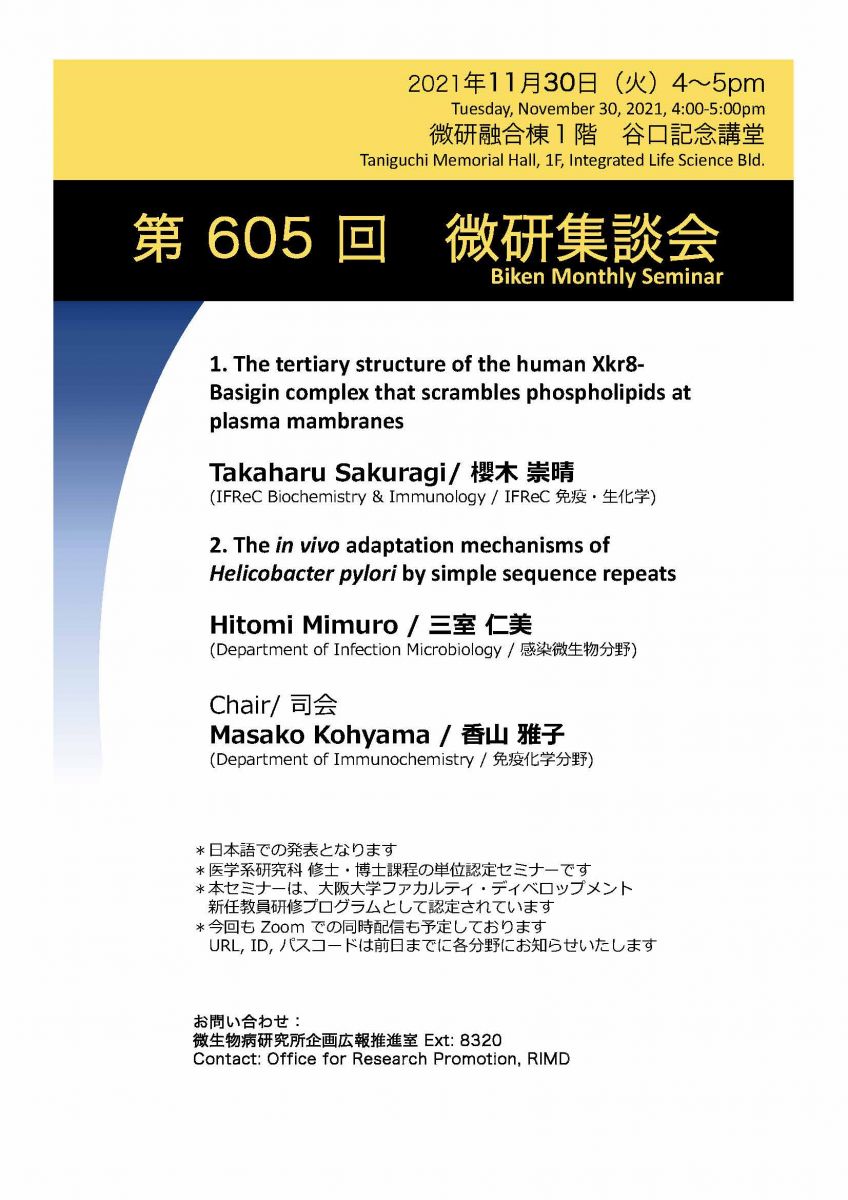 Back