[Internal Event ]The 601st Biken Monthly Seminar on June 22nd
June 21, 2021
Events and Seminars
| | Title | Speaker | Affiliation |
| --- | --- | --- | --- |
| Title1 | Arid5a promotes immune evasion by augmenting tryptophan metabolism and chemokine expression | PARAJULI Gyanu | IFReC Immune Regulation |
| Title2 | Afatinib, an inhibitor of ErbB family receptor tyrosine kinases, inhibits multiple steps of the mammarenavirus life cycle | MIZUMA Keita | Lab. of Emerging Viral Diseases |
※The seminar will be held Online (Zoom). Please ask your PI or secretary for the Zoom URL, ID, Pass code.
Chair: YABUTA Norikazu (Animal Resource Center for Infectious Diseases)

Date: Tuesday, June 22, 2021, 4-5 pm
*The first presentation will be conducted in English and the second will be conducted in Japanese.
*This is a credit recognition seminar for the Master and Doctoral Degree Programs of the Graduate School of Medicine.
*The seminar is certified as a newly appointed researchers training program as part of the Osaka University Faculty Development.
*Zoom information including URL, ID, and Passcode, will be provided via email by a day before the seminar.
---------------------------------------
Contact: Ryo Iwamoto / Aya Imura
Office for Research Promotion, RIMD
TEL: 8320 or 8260
E-mail: suishinr*biken.osaka-u.ac.jp (Please replace * with @)
Seminar Poster (PDF)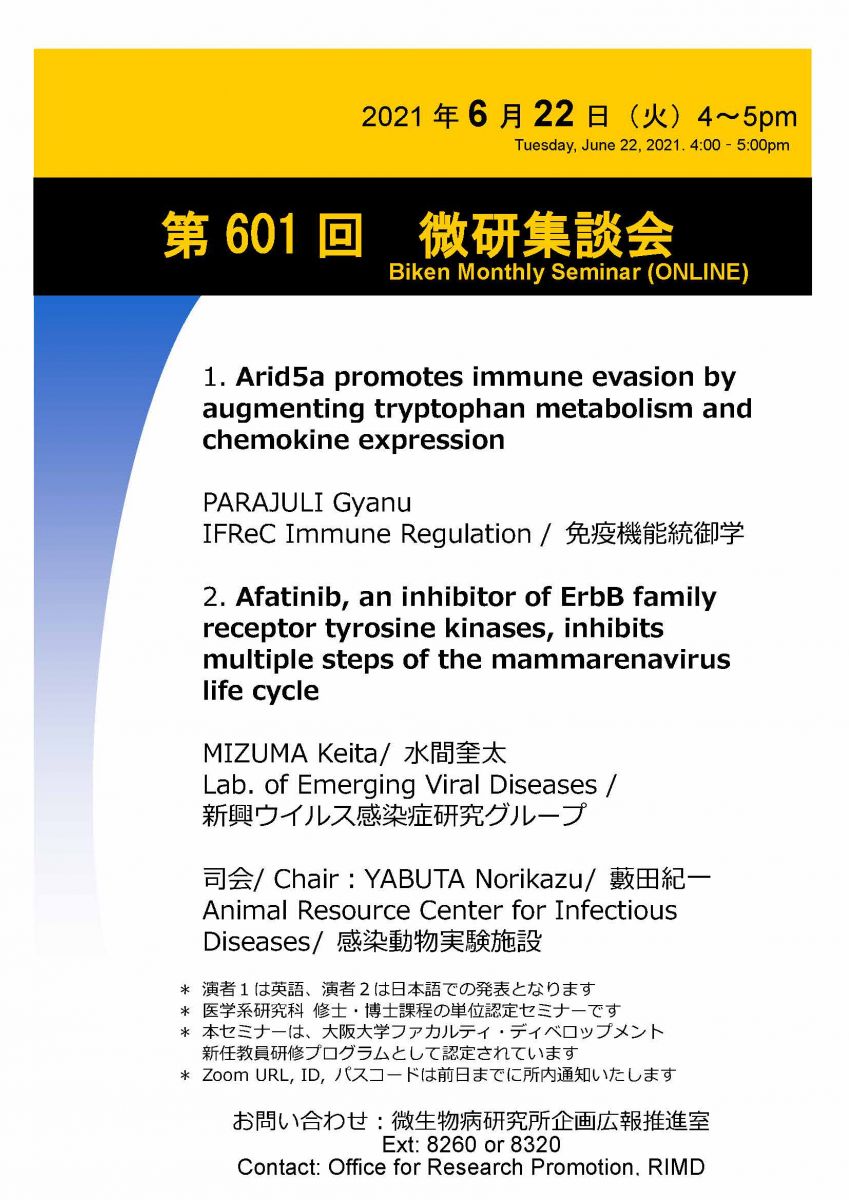 Back