[Internal Event / Online]The 597th Biken Monthly Seminar on February 16th
February 2, 2021
Events and Seminars
| | Title | Speaker | Affiliation |
| --- | --- | --- | --- |
| Title 1 | Aging of male reproductive organs causes decreases in sperm quality and fertility | ENDO Tsutomu | Dept. of Experimental Genome Research・Animal Resource Center |
| Title 2 | Hepatitis C virus evades antigen presentation by targeting signal peptide peptidase | Toru Okamoto | Institute for Advanced Co-Creation Studies |
※This seminar will be held online. We will inform you the Zoom Meeting URL, ID and Passcode by Feb.15.
Chair: Katsumori Segawa (Biochemistry & Immunology)

Date: Tuesday, February 16, 2021, 4-5 pm
Venue: Online zoom

*Presentation is conducted in Japanese.
**This is a credit recognition seminar for the Master's and Doctoral Degree Programs of the Graduate School of Medicine.
***The seminar has been certified as a newly appointed researchers training program as part of the Osaka University Faculty Development.
---------------------------------------
Contact: Ryo Iwamoto / Aya Imura
Office for Research Promotion, RIMD
TEL: 8320 or 8260
E-mail: suishinr*biken.osaka-u.ac.jp (Please replace * with @)
Seminar Poster (PDF)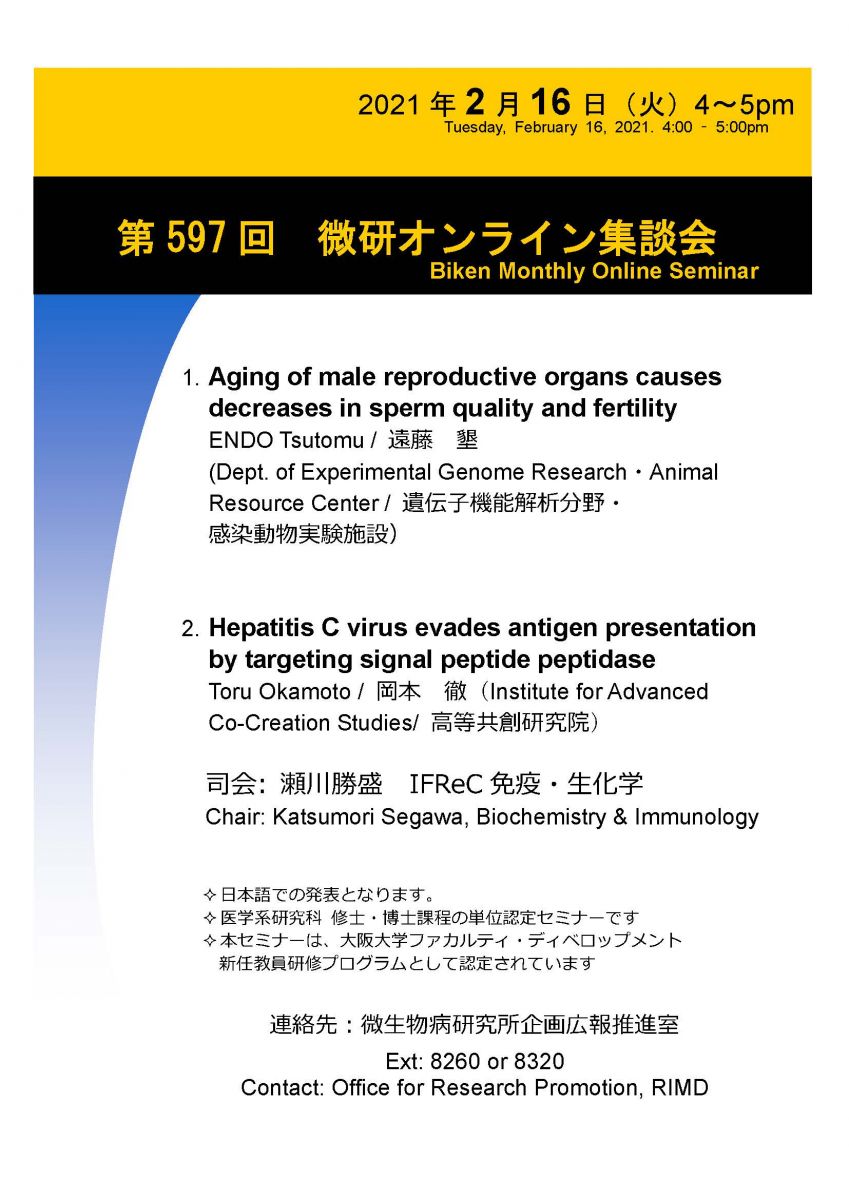 Back