The 592nd Biken Monthly Seminar on June 23
June 9, 2020
Events and Seminars
Title
Speaker
Affiliation

Title

1

Investigation of the roles of host- and virus-derived secretory glycoproteins in the infection of Flaviviridae viruses

Torii, Shiho

Dept. of Molecular Virology
Title 2

Sequence and structural features of BCR responses to SARS-CoV-2 S protein

Standley, Daron

Dept. of Genome Informatics
Chair:Masako Kohyama (Department of Immunochemistry)

Date: Tuesday, June 23, 2020, 4-5 pm
Venue: Taniguchi Memorial Hall (1F, Integrated Life Science Building)
In order to participate in the seminar, please follow the Osaka University guidelines extracts below.
If you have a fever or cough, visit a medical institution before joining any meeting/event and follow their instructions.
In the same manner to prevent the spread of infection of seasonal flu, wash your hands with soap and running water, use an alcohol-based hand sanitizer, wear a face mask, and practice good cough etiquette.
If you are not feeling well, please refrain from joining our meetings/events.
Please note that university staff are wearing a mask during the meeting/event.
*The Presentation one is conducted in Japanese and the presentation two is conducted in English.
**This is a credit recognition seminar for the Master's and Doctoral Degree Programs of the Graduate School of Medicine.
***The seminar has been certified as a newly appointed researchers training program as part of the Osaka University Faculty Development.
---------------------------------------
Contact: Ryo Iwamoto / Aya Imura
Office for Research Promotion, RIMD
TEL: 8320 or 8260
E-mail: suishinr*biken.osaka-u.ac.jp (Please replace * with @)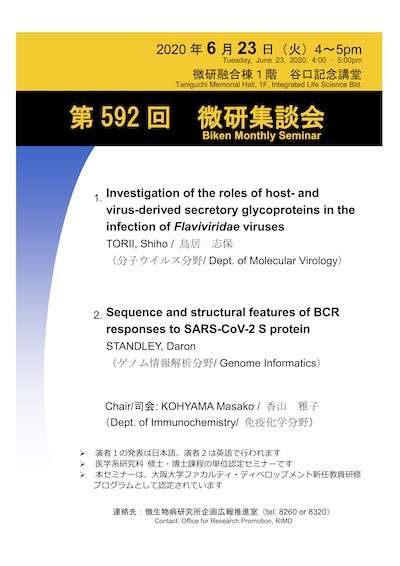 Back