Sep.7-9 The 20th Awaji International Forum on Infection and Immunity
July 29, 2022
Events and Seminars
Date: Sep. 7(Wed) to 9 (Fri), 2022
Broadcasting base station: Taniguchi Memorial Hall (Osaka University)
[IMPORTANT] About the format of the Annual Meeting
The 20th International Forum on Infection and Immunity will be held online with live streaming from the venue (broadcasting base station).
Organizers and speakers of appointed lectures come to the venue and conduct the program. Presentation slides, sounds and live videos are streamed online.
Poster presenters and participants join the meeting online.
We also ask all presenters and participants from overseas to join the meeting online, since restrictions to enter Japan may continue until the meeting period.
We are looking forward to seeing you.

Chair: Masahiro Yamamoto (Research Institute for Microbial Diseases, Osaka University)
Website: http://awaji-forum.com/en/2022
All sessions are held in English. The online registration are available.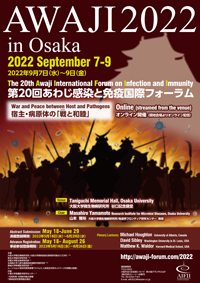 Back