[Sep. 24]Advanced Seminar Prof.Tsukasa Seya( Nebuta Research Institute for Life Sciences, Aomori )
August 31, 2020
Events and Seminars
Title

Advanced Seminar Series "Toward establishing a dendritic cell-specific immune adjuvant, ARNAX"

Lecturer

Prof. Tsukasa Seya

Director of Nebuta Research Institute for Life Sciences, Aomori University

Date
Thursday, Sep. 24, 2020, 4:00 - 5:00 pm
Place
Taniguchi Memorial Hall, 1st Floor, Integrated Life Science Building
Host
Prof. Yoshiharu Matsuura
(Dept. Molecular Virology)
-We plan to limit the number of first 80 visitors to the venue.
Pre-registration: Please send an e-mail to suishin*biken.osaka-u.ac.jp (Please replace * with @)
In the case of over capacity , we will inform you later.
-The Lecture will be conducted in Japanese.
-This is a credit recognition seminar for the Master's and Doctoral Degree Programs of the Graduate School of Medicine and Graduate Program for Advanced Interdisciplinary Studies "Combined Program on Microbiology and Immunology" as well.
-The seminar has been certified as a newly appointed researcher training program as part of the Osaka University Faculty Development.
Contact: Office for Reseach Promotion, Research Institute for Microbial Diseases, Osaka University
Tel: 06-6879-8320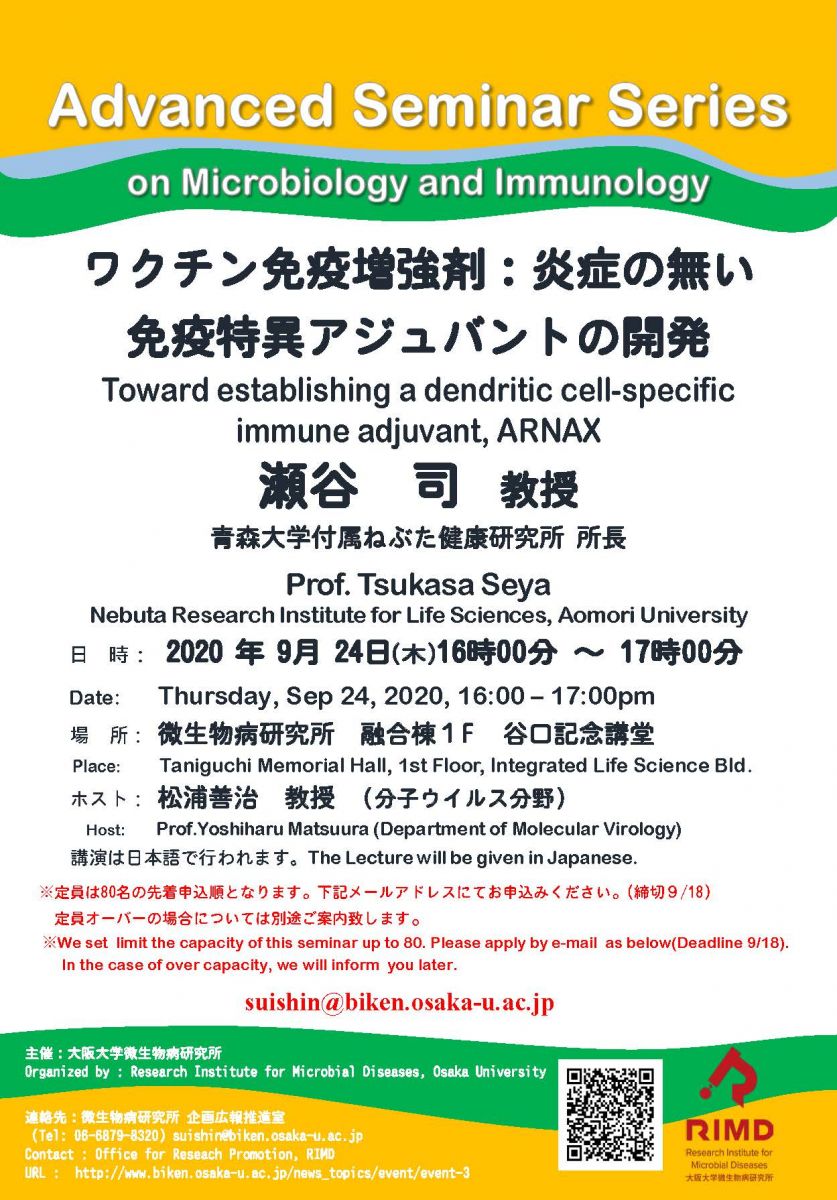 Back